The CEP Board of Directors met on Saturday 10th July to discuss the current situation concerning Covid-19 in Europe with respect to the scheduled European Championships.  Due to the ongoing uncertainty and concern about the "Delta variant" of Covid-19, as well as the logistical challenges with differing quarantine and health regulations across Europe, the Board of Directors took the difficult decision to cancel the EC Triples: Veterans, EC Triples: Men and EC Triples Espoirs and Juniors.
The full text of the correspondence received is detailed below: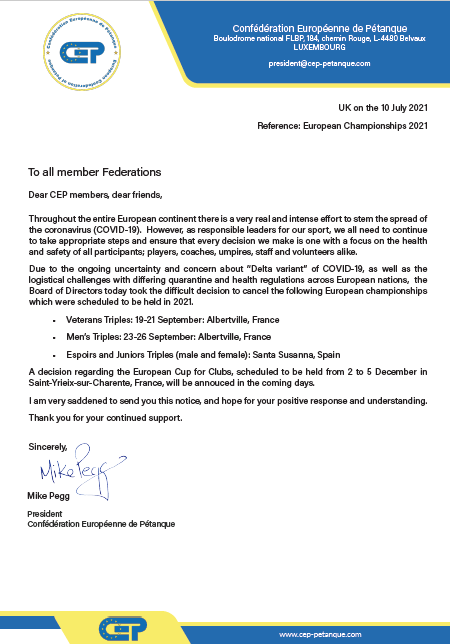 You will see that a decision concerning the European Cup for Clubs, which is scheduled for early December will be announced soon.  As soon as we receive confirmation of the CEP's decision we will inform you.
The executive appreciates the disappointment that the players who qualified to represent Wales feel, but the opportunity to play for Wales in the future has not gone away. The aim now to prepare for 2022.
The Executive will now review the playing calendar as additional dates have now become available.
Tony Smith
President.