The 2021 WPA League Cup & Plate Finals were held today at Ystradowen PC under glorious blue (sometimes a bit cloudy) skies. The ladies of Ystradowen PC had provided excellent bacon rolls, tea and coffee to sustain the competitors before play began at 11:00. Proceedings were opened by Vickie Adshead, WPA League Secretary, who explained the competition format and rules, and Chris Howard of Ystradowen PC who gave a health & safety briefing. Chris and his team of helpers were later thanked by Vickie on behalf of the WPA and the competitors.
Before the games commenced, WPA President, Tony Smith, called for a minute's silence to remember Mike Coleman of Wenvoe PC, a very popular member of the pétanque community, who had passed away recently.
The teams that had qualified for Finals Day and their players were:
| | | | |
| --- | --- | --- | --- |
| Isca Romans | Wenvoe Dragons | SWBRC Sea Hawks | Monkstone Monarchs |
| Kon Tomczyk | Bob Pugh | Len Field | Roger Griffin |
| Barbara Vaughan | Gloria Davies | Geoff Jones | Mike Jones |
| Gemma Foster | Dai Cannan | Ian Bailey | Tony Smith |
| Steve Snuddon | Ken Aston | Julie Bailey | Sean Smith |
Semi-Final 1 between Romans and Dragons got under way with Kon & Barbara facing Dai & Ken and Bob & Gloria and Gemma & Steve as the other paring. In the first game Kon & Barbara raced into an early lead with 6 points to nil on the board but Ken & Dai fought back with a 4 and a 2 to level at 6-6. The revival was short lived as Dragons only took 2 further points and Romans took the game 13-8.
Dragons second pairing of Bob & Gloria were the first to the half way mark leading Gemma & Steve 7-4. Bob & Gloria continued their strong start only conceding 1 more point to record a 13-5 win. This left Romans and Dragons at 1-1 in games with a slight points advantage to Dragons, 21-18.
In the reverse games, there was a cagey start to the game between Kon & Barbara and Bob & Gloria when with score at 3-4 to Dragons, Romans took a 5 and a 4 to lead 12-4. Bob & Gloria staged a mini comeback but at 12-7, Romans secured the extra point for a 13-7 win.
The final game of this Semi-Final pitted Gemma & Steve against Dai & Ken and proved to be nail biting encounter. The score had reached 7-7 when Dragons took a 3 and although Romans hung onto their coat-tails they never managed to catch up and Dragons ran out 13-12 winners. This left the match at 2-2 but thanks to the 12 points gained by Romans in the last game they took the match by a slender 2 points at 43-41.
Semi-Final 2 between Sea Hawks and Monarchs saw Len & Geoff take on Roger & Mike. Monarchs were holding their own up to 4-4 but then Sea Hawks turned up the heat and allowed Monarchs only 1 more point to run out 13-5 winners.
The other Monarchs pair of Tony & Sean took an early 4-0 lead against Ian & Julie but were soon pegged back to 4-5. Sea Hawks now had the momentum and although Monarchs picked up 3 more points they eventually went down 7-13. This left Sea Hawks  in a commanding position for the reverse games with a lead of 2-0 and 26-12 in points.
In the third game of this Semi-Final, Ian & Julie raced into a commanding 7-0 lead for Sea Hawks. Monarchs, Roger & Mike, staged a recovery taking 5 on the next end and holding Sea Hawks to a 2 point lead at 8-6. Ian & Julie took the next three ends to put Sea Hawks into a unbeatable 3-1 lead in games with a 13-6 win.
This left the final game of the Semi-Finals as a dead rubber and nothing for Monarchs to play for but pride. Sea Hawks, Len & Geoff, took 4 on the first end but Monarchs fought back with Tony & Sean taking a narrow lead at 8-6. The second half of the game was a tight affair with neither team leading by more than 1 point until, with Monarchs leading 12-11, Len & Geoff took 2 to close out the game at 13-12 giving  Sea Hawks a 4-0 whitewash and points of 52-30.
Lunch was taken with some competitors availing themselves of even more bacon rolls and teas/coffees provided by the hard working ladies of Ystradowen PC.
Following the morning's Semi-Finals, the Cup Final was to be contested by the Sea Hawks and Isca Romans while the fight for the Plate was to be Monarchs v Dragons. All of the teams fielded the same personnel with the same pairings as had played in the Semi-Finals.
The Cup Final proved to be a surprisingly one sided affair with Romans not putting up much resistance against the rampant Sea Hawks. The best Romans could manage was 5 points in the game between Kon & Barbara and Ian & Julie and Sea Hawks won the Cup with a comfortable 4-0 win in games and 52-16 in points.
The Plate Final turned out to be a much more exciting match. In the first game Roger & Mike took on Dai & Ken. After 7 ends, Dragons were up 6-2 but in the next 6 ends Monarchs slowly clawed back the lead and overtook Dragons to lead 11-6, finally taking the game 13-7.
In the next game, Monarchs, Tony & Sean, established a commanding 10-1 lead which looked to be setting Monarchs up well for the reverse fixtures. Dragons, Bob & Gloria had other ideas and started a fight back. At 10-5, Monarchs took another 2 points for 12-5 and it looked as if the game was up for Dragons. With nothing to loose, Dragons loosened up and in 3 ends they had remarkably taken the game 13-12. Instead of what had looked like a nailed on 2-0 lead in games, Monarchs had to settle for 1-1 but had a points advantage of 5.
So the last 2 games of the day got under way with Monarchs, Roger & Mike, up against Dragons, Bob & Gloria fresh from their spectacular win in the first game. Would the momentum be with them to give Dragons a 2-1 lead? Monarchs had a nervy start with Dragons going 3-1 up but Monarchs soon recovered their poise with Dragons gaining only 1 more point to give Monarchs a 13-4 win. Monarchs had a 14 point lead which again made the final game a dead rubber.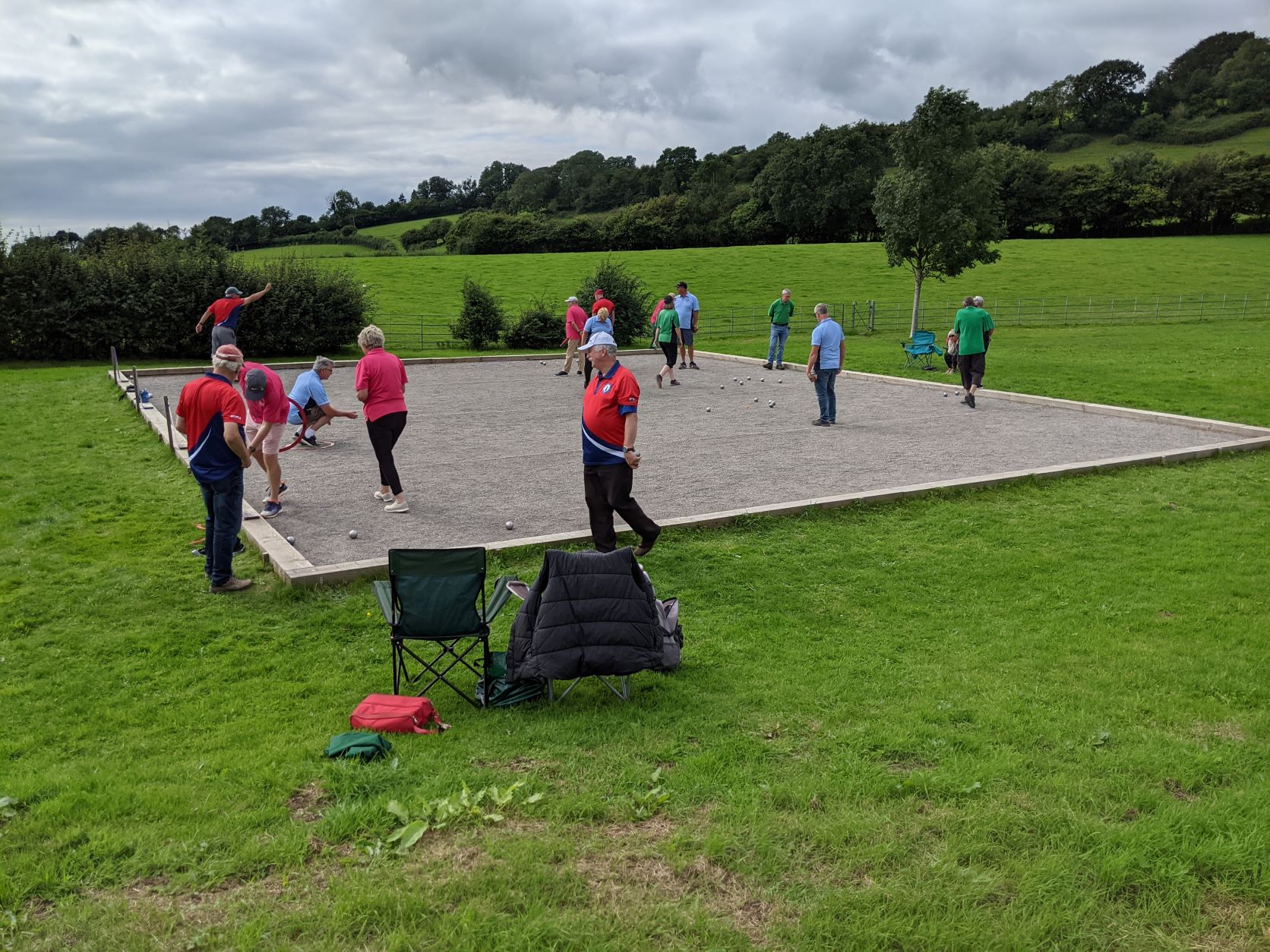 Monarchs, Tony & Sean, established a 10-3 lead after 7 ends – surely they couldn't throw it away again. Dragons, Dai & Ken are canny pair and pulled the lead back to 3 points before Monarchs took 2 points to lead 12-7. Their was a certain amount of déjà vu about the game and so it proved to be with, for the second game in a row and the third game of the day, Tony & Sean unable to get over the line and going down by the same score, 12-13. This was a valiant effort by Dragons but it was impossible to overturn Monarchs 14 point advantage and, with games at 2-2, Monarchs took the Plate by 50-37.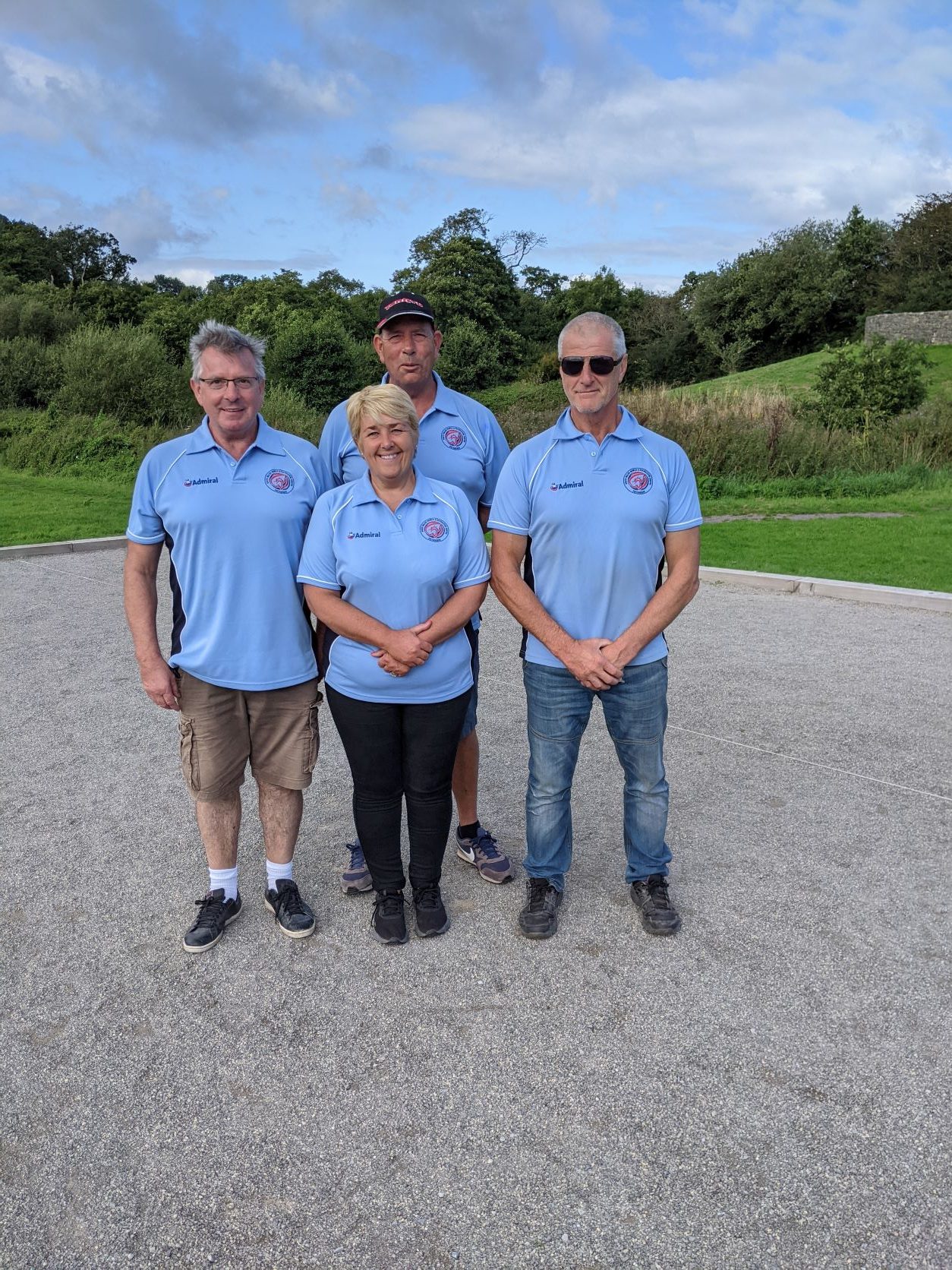 It had proved to be an excellent day's pétanque in beautiful weather and CONGRATULATIONS go to SWBRC SEA HAWKS, 2021 winners of the WPA League Cup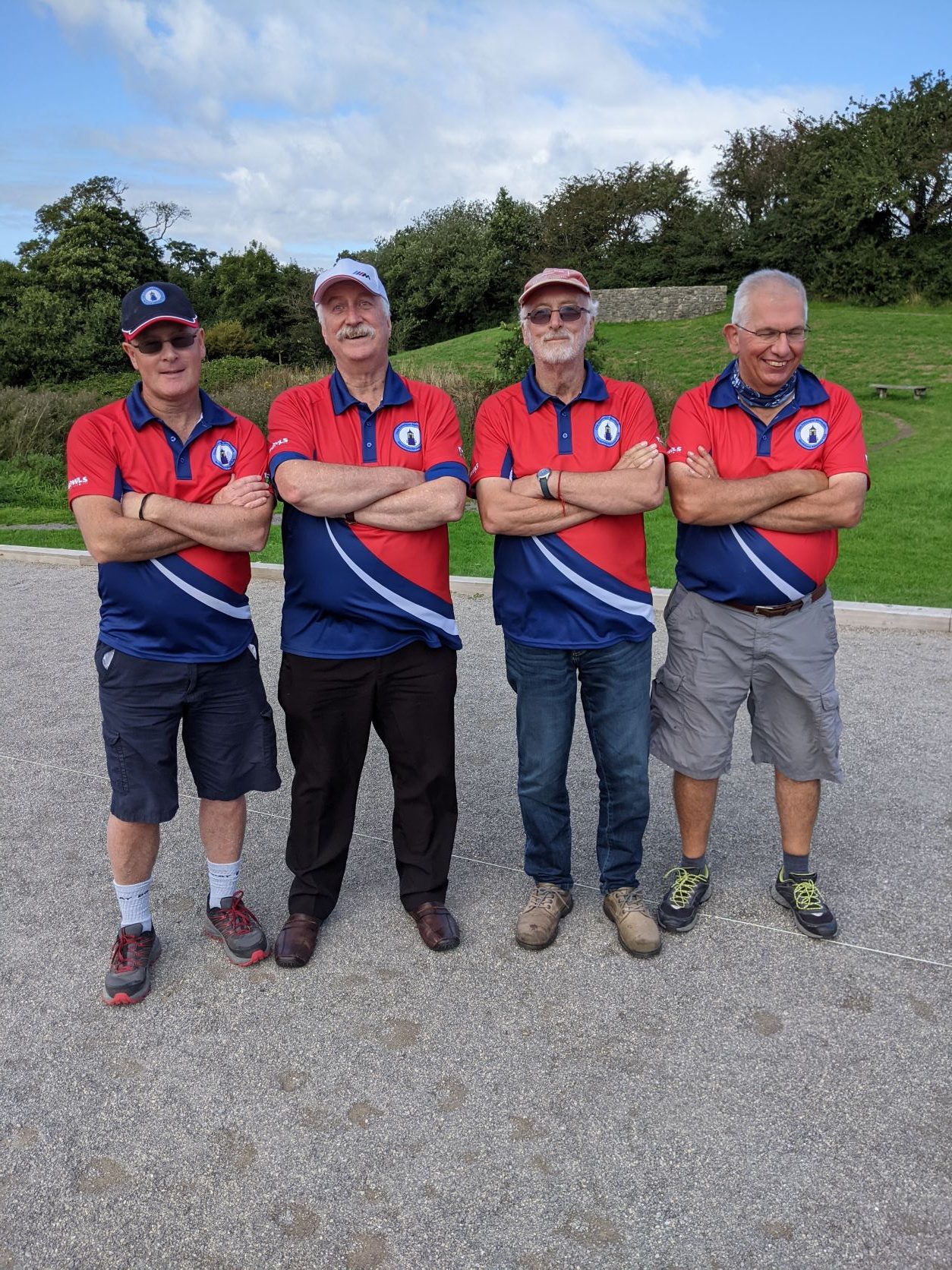 and also to MONKSTONE MONARCHS, 2021 winners of the WPA League Plate.
And a final thank-you goes to Ystradowen PC for hosting today's event and to the unsung heroes of the kitchen for the well received bacon rolls and tea/coffee. All competitors agreed that it was an excellent venue with the pistes being a lot more challenging than they first appear.
The gallant losers: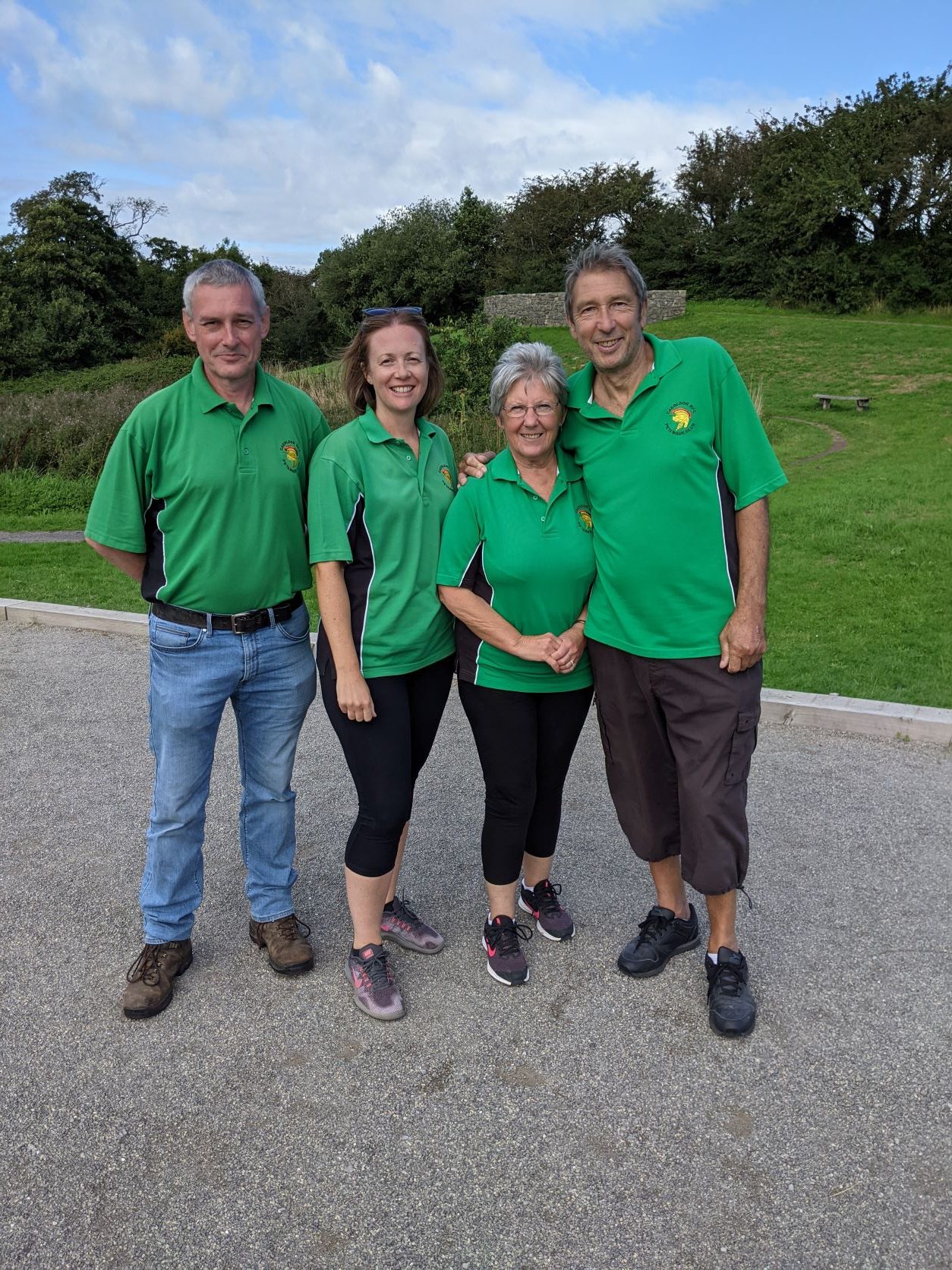 ISCA ROMANS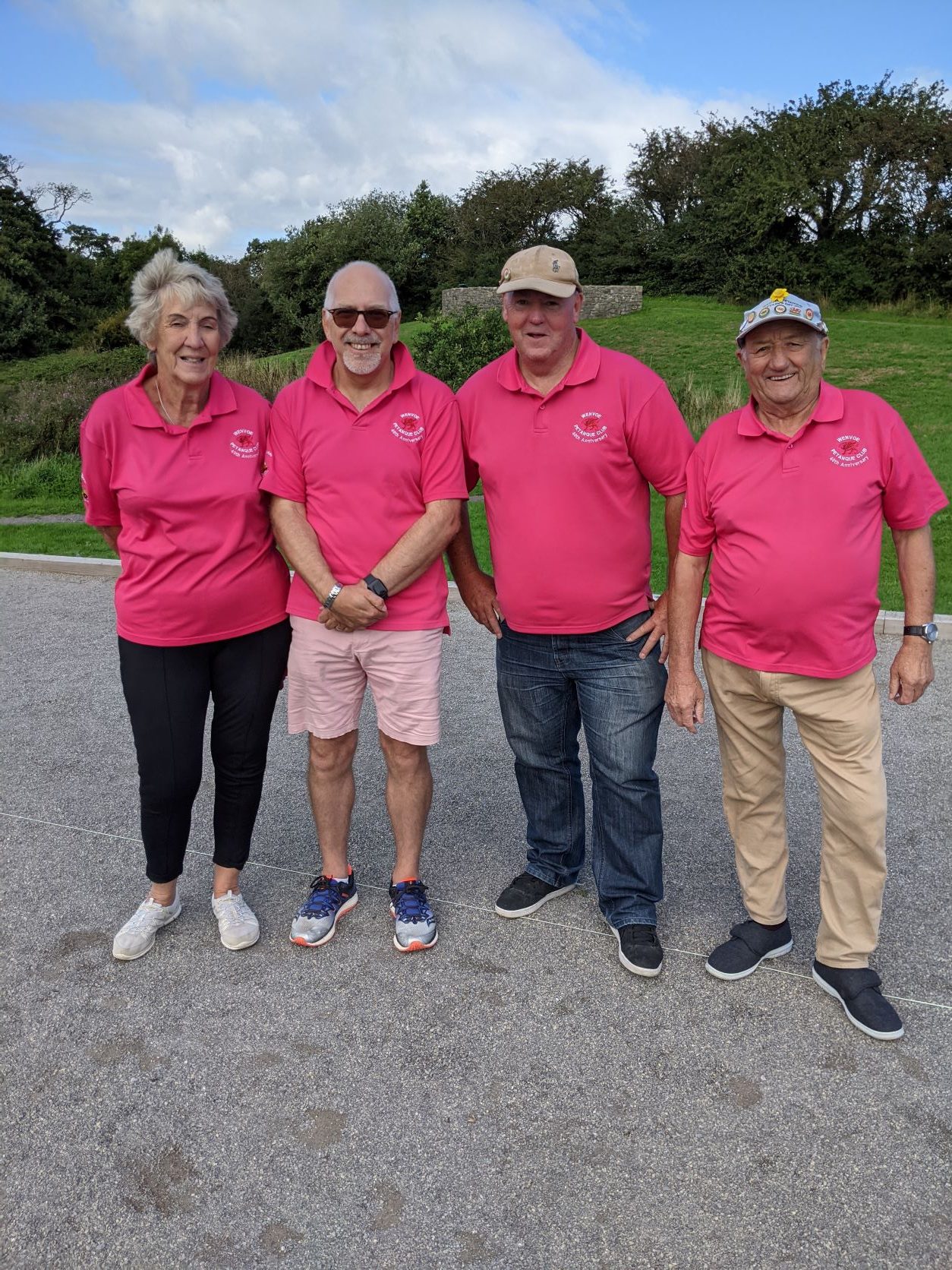 WENVOE DRAGONS
All the competitors: