The qualification competition for Petanque England's annual Inter-Regional Championship took place at Caerleon RFC PC on Sunday 13th June, which became a scorching day.
Seven teams entered the competition, with only 4 of the teams being selected to represent the WPA. Each team played each other to obtain the final ranking detailed below.

Even though the entries represented a small percentage of the membership, the competition was fierce to see which would qualify and represent the WPA in Melton Mowbray at the beginning of September. There was only one team that almost had a clean sweep: Monkstone PC team (WPA1) represented by Gill Greenwell, Gill Clark, Roger Green & Sean Smith, finishing with 5 wins (+31 points difference), losing only to the Wheatsheaf PC team (WPA3) of Gail Brooksbank and Jim and Linda Hutchinson who finished with 3 wins (+8 points difference).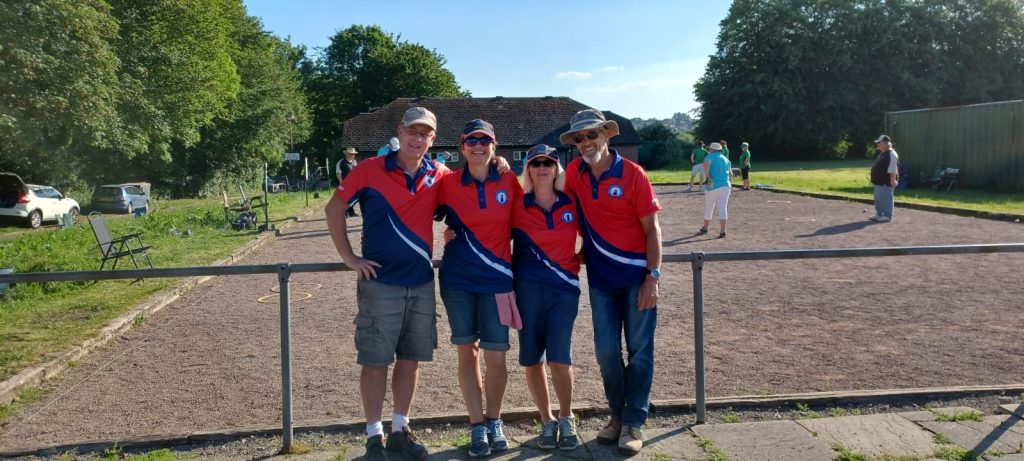 The other two teams that qualified are the combined team (WPA2) represented by David Elston (Sully PC), Bob Pugh (Wenvoe PC), Derek Jones (Pontyclun PC) and Steve Sudden (Caerleon RFC PC), who finished with 4 wins (+17 points difference) and the Caerleon RFC PC team (WPA4) represented by Gemma Foster, Tansy Mayfield, Kon Tomczyk and Barbara Vaughan completing the day on 3 wins (+3 points difference).
The other results were as follows:
The second Wheatsheaf PC team comprising Alan Evans, Colin Sweet, Basil White and Dave Sharratt finished with 3 wins (-2 points difference).
Brecon RFC team comprising Tony Griffiths, Gareth Smart, Jim Page and AJ Jones finished with 3 wins (-15 points difference) and
the second Caerleon RFC PC team comprising Dai Bevan, Wally Wilkinson, Ray Williams and Ian Wheeler finished with 0 wins (-42 points difference).
The WPA would like to thanks all the players who took part in the qualification round and the executive and members of the Caerleon RFC PC for hosting the event and making the facilities available throughout the day.
Tony Smith
President.