World Championships | European Championships | Home Nations Championship | Celtic Challenge |
---

2020 Celtic Challenge
Due to the movement of the early May Bank Holiday in 2020, the date of the Celtic Challenge has been confirmed as 9/10 May and is being held at Glasgow Petanque Club.
The Players' Information document can be found here.
The Wales Squad for the 2020 Celtic Challenge is:
| | | | |
| --- | --- | --- | --- |
| Wales 1 | Wales 2 | Wales 3 | Wales 4 |
| Ian Bailey | Tansy Mayfield | Jeremy Clare | Jim Hutchinson |
| Julie Bailey | Bob Pugh | Len Field | Linda Hutchinson |
| Jean-Yves Robic | Kon Tomczyk | Tom Mills | Basil White |
| Sean Smith | Barbara Vaughan | Tony Smith | |
History of The  Celtic Challenge
In 1989 the Scottish Pétanque Association accepted an invitation to play Wales in Cardiff, Scotland won.
The return match was held in Stirling in 1990 and following a request from Northern Ireland to be included, the Celtic Challenge was formed.
In 1991 the Irish Pétanque Association was formed and the third Celtic Challenge was held at Clandboyne, Northern Ireland.
The Celtic Challenge is played over two days, each nation supplies four teams of three players with the host nation supplying an additional 'B' squad.
The winner is the squad who achieve the most wins after twelve rounds (when each team has played against all the opposing teams). The host nation's 'A' and 'B' squad play each other in the first four rounds on the opening day.
Strong competition coupled with a social and friendly atmosphere combine to make the Celtic Challenge one of the highlights of the pétanque calendar.
Going into the 2020  competition the standing is:-
Scotland have won 14 times
Wales have won 12 times
Ireland have won 5 times.
| Year | Venue | Winners (Wins) | Comments |
| --- | --- | --- | --- |
| 2020 | Scotland - Glasgow | | |
| 2019 | Wales - Pontyclun | Scotland (14) | National anthems played (and sung), challenging pistes needing boule-to-boule shooting and plombé pointing led to Scotland's 6th consecutive win. Twelve wins from twelve meant Shirley Legge, Robbie Stronnach and Derek Adam were top triple. |
| 2018 | Ireland - Dublin | Scotland (13) | |
| 2017 | Scotland - Galashiels | Scotland (12) | |
| 2016 | Wales - Caerleon | Scotland (11) | The old Roman town of Caerleon was the venue. Despite being paraded onto the piste by a Roman Centurion, Scotland take no prisoners as they continue their winning streak with a hat-trick of wins. Ian Bailey, Glyn Attley & Phil Bradshaw were top triple. |
| 2015 | Ireland - Fairfield Cork | Scotland (10) | A typically warm Irish welcome was waiting for the players, which was just as well given the weather which was wet for most of the weekend. This didn't deter Scotland, who retained their title from Fochabers. Scotland 2 was the top triple, denied a clean sweep of 12 wins by Wales 4 - Alison & Paul Gregory & Richard Harris. |
| 2014 | Scotland - Fochabers | Scotland (9) | The Fochabers bald and sloping pistes are transformed on the Sunday with heavy rain that stops play as it floods the lower pistes. Stronnach-Wilson-Bretenoux once again are top triple. |
| 2013 | Wales - Llanhennock | Wales (12) | At The Wheatsheaf Inn, deep in the countryside overlooking the Celtic Manor Golf complex, Wales emerge victorious. |
| 2012 | Ireland - Bangor | Scotland (8) | The games come back to Bangor where Scotland continue the winning streak. |
| 2011 | Scotland - Troon | Scotland (7) | Home advantage in Troon helps Scotland stop the Welsh dominance. Byrin nMilton is moire and tournament,ent director. Robbie Stronnach, Paul Bretenoux and Johnny Wilson win 12 out of 12. |
| 2010 | Wales - Wenvoe | Wales (11) | Wales make it four-in-a-row at The Wenvoe Arms. |
| 2009 | Ireland - Cork | Wales (10) | The second time the Celtic Challenge is played in Frankfield, Cork. In a tight battle, Wales emerge victorious with 29, Ireland with 28 and Scotland with 27. |
| 2008 | Scotland - Fochabers | Wales (9) | Fochabers was the venue, with good weather for one in nScotland. Roly-poly pistes meant that luck was a factor. Wales again take the trophy and the best triple. |
| 2007 | Wales - Abergavenny | Wales (8) | A relatively easy win for Wales in glorious Abergavenny. Paul Bond and the Dobbins father & son duo are best triple. |
| 2006 | Ireland - Dublin | Ireland (5) | Dublin Airport is windy but sunny, and even though Paul Bond, Glyn Attley and Neil Dobbins are top triple, Ireland win again on home ground. |
| 2005 | Scotland - Inverness | Scotland (6) | A Saturday of glorious sunshine inn Inverness is followed by heavy rain one Sunday. On the first day it is roly-poly on flat ground; on the second it is plombé into soft sand. |
| 2004 | Wales - Brecon | Ireland (4) | The first win away from home is recorded by the Irish in Brecon. |
| 2003 | Ireland - Bangor | Scotland (5) | Scotland make it a second win in a row at Pickle Bowling Club in Bangor when they demolish Wales by 11 wins to 5. The Belgian World Champions are visitors. |
| 2002 | Scotland - Stirling | Scotland (4) | The Birds and Bees host the event in Stirling, and Scotland use home advantage to win. This was the year of Braveheart and the nearby Wallace memorial was poignant. |
| 2001 | Wales - Pontypool | Wales (7) | Wales regain the trophy on home soil at Panteg House in Pontypool. |
| 2000 | Ireland - Cahir | Ireland (3) | Cahir in County Tipperary is the venue, beside the great castle. Charles Clarke, playing for Ireland B, throws the last boule to beat Scotland and sewcufre an Irish win. |
| 1999 | Scotland - Drymen | Wales (6) | Wales come to Scotland and regain the trophy from the Scots. Ireland are third. John Cameron was the organiser of a great weekend. |
| 1998 | Wales - Brecon | Scotland (3) | Back to Brecon, with the three nations deciding that the B teams' results would now count in the scoring. The Scots celebrate their first win since the initial matches. Young Neil Dobbins plays on the B team for Wales. His father, Rod, plays with Paul Bind on the best triple. |
| 1997 | Ireland - Castlewellan | Wales (5) | The first and only time that the Celtic Challenge has been played indoors. the soft clay of the Seeconnell Arena required spot accuracy in shooting, and plombé was and effective way of pointing. The Irish Breteches were the stars, winning all twelve games. |
| 1996 | Scotland - Perth | Wales (4) | Perth was memorable for its cold, wet weather. Paul Bond played for Wales as they narrowly overcame Scotland. Best triple was Roy Lindsay, Morgan Ince and Keith Lord. |
| 1995 | Wales - Cardiff | Wales (3) | The Monkstone Inn, Cardiff is the venue. The fist year that a Cahir triple plays for Ireland. Glyn Attley, Phil Bradshaw and Matthew Franks are the top triple as Wales dominate by 20 games to Ireland's 14, who squeezed past Scotland on points. |
| 1994 | Ireland - Cork | Ireland (2) | The first games in southern Ireland are held at Frankfield, Cork. Ireland win the Celtic Challenge and the Eurovision Song Contest. The Irish Breteches are top triple. |
| 1993 | Scotland - Troon | Wales (2) | At The Anchorage in Troon, Wales win, although the top side is Byron Milton, Mike & Ron Dow. The umps of Charles Clarke, Barra O'hEireamhian & Christoph Degranges play well for Ireland. |
| 1992 | Wales - Brecon | Wales (1) | The great Welsh side, with stars such as Feix, Chris Trig, Colin Newman, Rhys Davies and Tony Fox, emerge to dominate the Celtic Challenge for the next 4 years. Wales win convincingly at the Blue Boar in Brecon. |
| 1991 | Ireland - Clandeboyne | Ireland (1) | The Irish Pétanque Association is formed. The three nations meet in the George in Clandeboyne, Bangor. John McCloy, with his last boule on the last game secures a win for Ireland on Points from Wales. The Scots are led by Bob Boyle and the Welsh by Colin Newman. |
| 1990 | Scotland - Stirling | Scotland (2) | Scotland invite Wales to a return match in the Birds and Bees in Stirling. Northern Ireland are asked to join. Scotland win by 25 games to Wales' 16 and Ireland's 7. |
| 1989 | Wales - Cardiff | Scotland (1) | Wales invite Scotland to a match in Cardiff. Scotland win by 9 games to 7. |
2019 Celtic Challenge
2019 saw Wales hosting the 31st Celtic Challenge, the annual pétanque competition between Ireland, Scotland and Wales.
This year it was held at Pontyclun PC, over the weekend of 4/5th May.
This years Celtic Challenge was opened with welcoming words from Cllr. Margret Griffiths, Rhondda Cynon Taff and her husband Cllr. Paul Griffiths, leader of Pontyclun Community Council, these were then followed by welcoming speeches from Bob Pugh, president of the WPA, Heads of delegations for Ireland and Scotland along with Gareth Jackson, President of the hosting club (Pontyclun PC) and Bob Parker from the English Pétanque Association, our guest umpire.
The competition started and all teams were up to the challenge, Wales A had to play their first games against Wales B which was a tough fought battle with Wales A finishing 8 – 4 ahead at the lunch break.
Similarly, Scotland were showing Ireland no quarter in their early rounds and they too finished 8 – 4 up at the break but Wales A were ahead on points.
The afternoon session started with Wales B taking games off Wales A, Scotland continued their strong play and by the close of play had held their nerve and continued to take games from all angles including those against the home nation.
Saturday finished at:-
Scotland – 15
Wales A – 13 (ahead of Wales B on points)
Wales B – 13
Ireland – 7
Day two and thankfully the continuous cold breeze of the previous day had dropped, during the morning there was actually a considerable amount of sunshine.
Sunday morning saw Scotland off to a very strong start winning three of their first four games against Wales A in round one, round two was no better for Wales A as they lost the next round again 3 – 1. In the final round of the morning it was Wales A's turn to face Ireland but unfortunately this too resulted in a 3 – 1 loss.
After round nine the scores stood at:-
Scotland – 24
Wales B – 20
Wales A – 16
Ireland – 12
The afternoon session got off to a better start with Wales A winning all four of their games against Ireland but Wales B had now come up against the mighty Scottish side.
By the end of the twelfth and final round, Wales A managed to win eight of their games with Ireland winning four games. Wales B had struggled against the Scots only winning 4 games out of the 12 they played in the afternoon.
The glory and the 2019 Celtic Challenge went to Scotland making this a record successive sixth win for them and brings them level with Wales as both countries have now both won it 13 times since it started back in 1989.
Next year it is being held in Scotland.
The final scores:-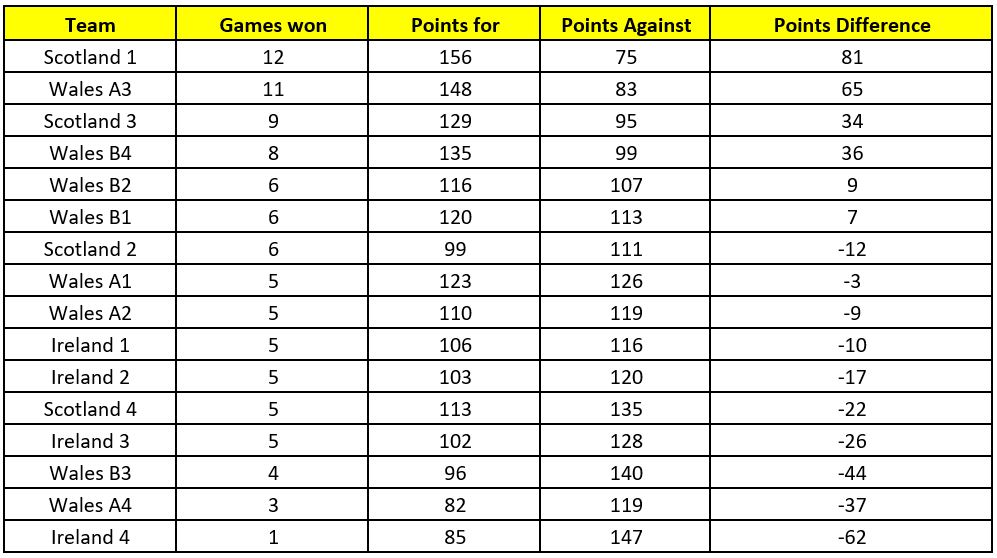 Wales Squad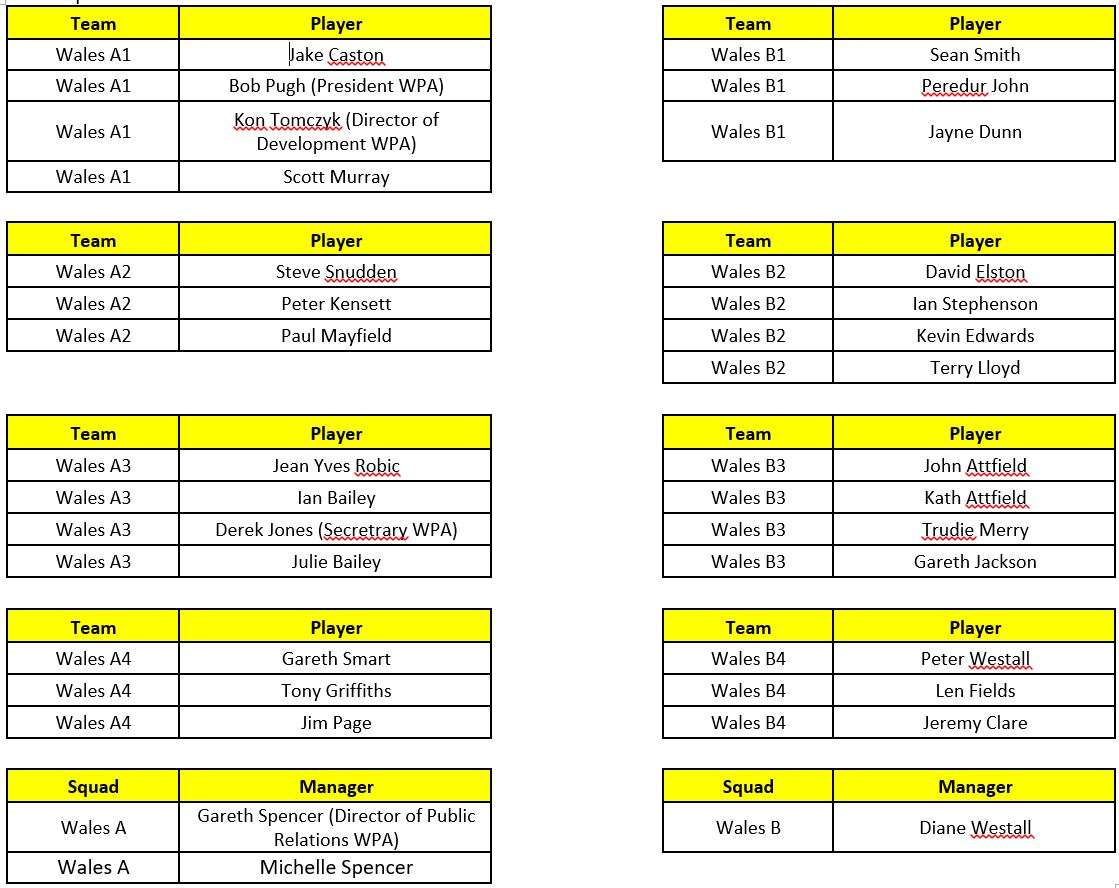 Double click on any of the photographs above to enlarge.
---
World Championships | European Championships | Home Nations Championship | Celtic Challenge |