Celtic Challenge | Home Nations | Nationals | League | League Cup & Plate | Welsh Cup for Clubs | World & European Championship Qualifiers
---
The League Cup Competition runs parallel to the National League competition and adds another dimension to the playing season. Teams playing in the National League do not have to play in the League Cup, but are encouraged to do so.
All of the teams that have entered the League in 2022 have also entered the League Cup/Plate Competition.
The League Cup/Plate continues in the format adopted in 2019. This year there will be 2 pools of 4 teams and 2 pools of 3 teams drawn at random and the teams in each Pool will play each other once in a mini-league. On Finals Day, the teams finishing top of each Pool will contest the semi-finals and the winners of the semi-finals will play for the Cup whilst the losers will play for the Plate.
Finals Day Fixtures
Semi-finals
Winner Pool A  (SWBRC Seagulls) v  Winner Pool C (Pontyclun Badgers)
Winner Pool B ( Isca Romans) v  Winner Pool D (Monkstone Minotaurs)
Finals
Cup Final – Winner Match 1  v  Winner Match 2
Plate Final – Loser Match 1  v  Loser Match 2
The draw for the League Cup/Plate was made at the Monkstone Petanque Club on Thursday 21 April 2022 by Helen Edwards, a member of  Penylan Bowling Club. 
Games in each round must be played ON OR BEFORE the dates shown on the fixture grids:
FINAL TABLES AFTER POOL STAGE
POOL A
POOL B
POOL C
POOL D
RESULTS
FIXTURES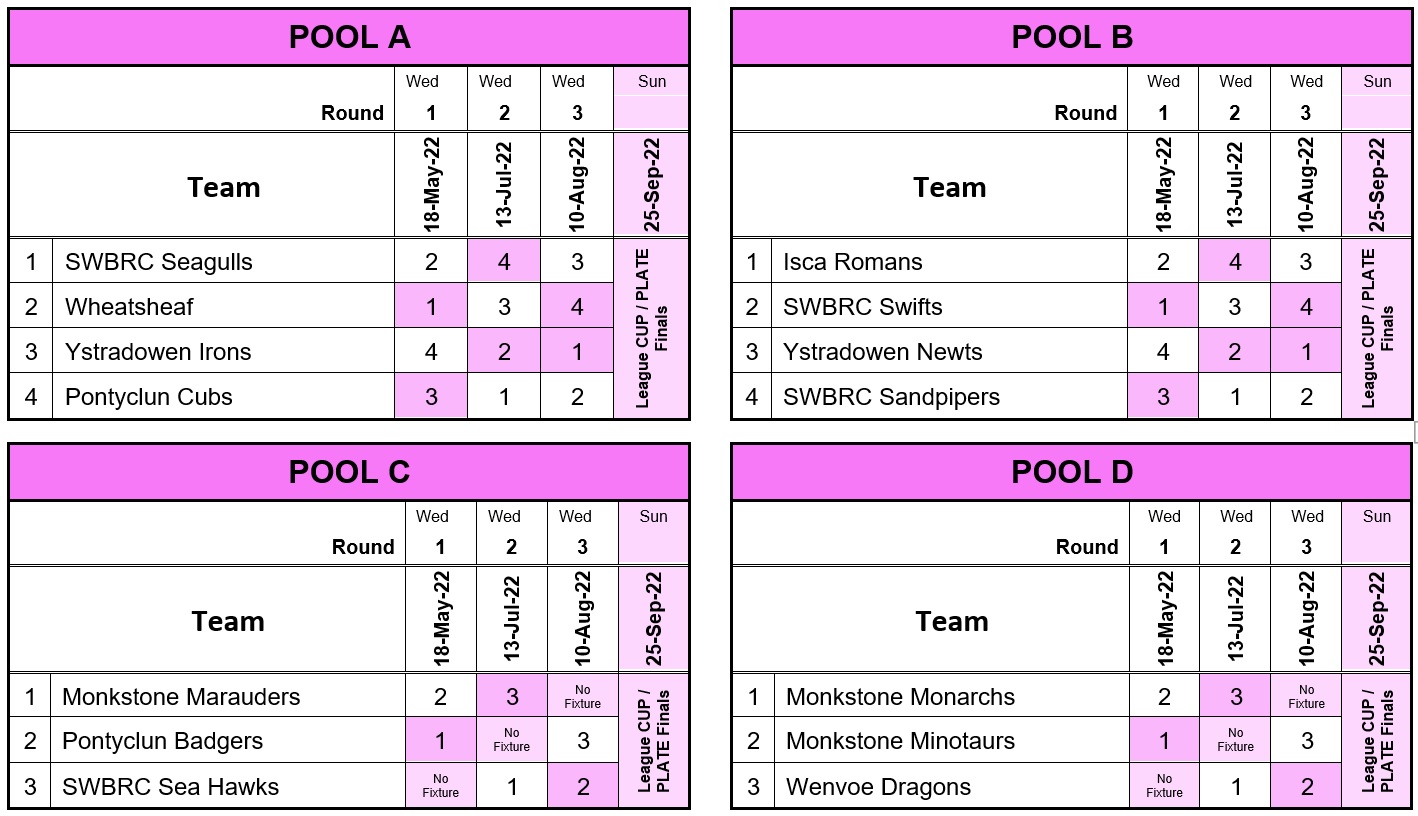 The League Cup/Plate fixtures can be downloaded by following the link below:
2022 League Cup/Plate Fixtures
Follow this link to submit results of the National League Cup/Plate competition directly to the League Secretary:
---
NATIONAL LEAGUE CUP/PLATE ROLL OF HONOUR
LEAGUE CUP
| Year | Winner | Runner Up |
| --- | --- | --- |
| 2021 | SWBRC Sea Hawks | Isca Romans |
| 2020 | No Competition | Covid-19 |
| 2019 | Maesteg | Monkstone Monarchs |
| 2018 | Isca Romans | Monkstone Minotaurs |
| 2017 | Penarth Pendragons | Wheatsheaf A |
| 2016 | Monkstone Inn Dau | Monkstone Inn Rogues |
| 2015 | Monkstone Inn Rogues | Wheatsheaf A |
| 2014 | Monkstone Inn 1 | Isca Romans |
| 2013 | Monkstone Inn 1 | Isca Romans |
LEAGUE PLATE
| Year | Winner | Runner Up |
| --- | --- | --- |
| 2021 | Monkstone Monarchs | Wenvoe Dragons |
| 2020 | No Competition | Covid-19 |
| 2019 | Monkstone Minotaurs | Penarth Panthers |
| 2018 | Wenvoe Dragons | Monkstone Mystics |
| 2017 | Isca Romans | Maesteg |
| 2016 | Pontyclun Badgers | Wheatsheaf Too |
| 2015 | Wenvoe Dragons | Monkstone Minotaurs |
| 2014 | Wenvoe Warriors | Penarth Preditors |
| 2013 | Wheatsheaf A | Barn's Wallace |