SUPERB WIN FOR THE FIRST-TIMERS
The first National competition was finally held on Sunday 6th September at Pontyclun PC's base at Pontyclun RFC.
It seemed like a very long time since the last WPA competition was held, way back in March, when the President's Cup was held at the Wheatsheaf Inn.
After all the uncertainty surrounding the COVID-19 pandemic and after the relaxation of the lockdown restrictions imposed by the Welsh Government, the WPA finally kicked its season into play, when 6 teams entered the National Doubles for Women.
A trial doubles competition had been held at Pontyclun and the lessons learned were used as the basis of the play for this competition.
For the vast majority of the players, this was their first competitive outing of the year, and a number of the teams were new to each other having not played together previously, as well as a few more familiar pairings. The competition was played under the WPA's published guidelines, including the regulation 2m social-distancing requirements. These included enhanced hygiene, recording of everybody's temperature, recording of personal contact details for compliance with the Welsh Government's Track, Trace, Protect programme, 30-person-limit within the "activity bubble" and full 2m social distancing.
With 6 teams entered, the "round-robin" format was adopted so every team played the other 5.
September being what it is, we experienced hot sun, chilly winds, light rain – often all within a few minutes!
The pistes at Pontyclun are renowned for their unforgiving nature, but this didn't deter any of the teams and the quality of play overall was of a very high standard. This was evident by the start of Round 5 where, despite one team having built an unassailable lead, 4 of the remaining teams were in with a chance of the runners-up spot.
This finally went to the "locals', Kath Attfield (justifying her award of Most Improved Player of 2019) and Marie Jones, who won 3 of their games – 2 of which were extremely tense finishes of 13-12 & 13-11.
The honours of the day, with a clean-sweep of 5 wins out of 5 matches went to the Monkstone PC-based pairing of Gill Clarke and Gill Greenwell.
"The Gills'" victory is even more remarkable because, not only was it their first competitive pairing, it was Gill Greenwell's first National competition, it was her first visit to Pontyclun and she only started playing pétanque in June of 2019.
FInal Standings:
| | |
| --- | --- |
| Position | |
| 1 |  Gill Clarke & Gill Greenwell |
| 2 |  Kath Attfield & Marie Jones |
| 3 |  Chris McCaddon & Karen Robbins |
| 4 |  Gemma Foster & Tansy Mayfield |
| 5 |  Trudie Merry & Michelle Spencer |
| 6 |  Vickie Adshead & Jayne Dunn |
Huge congratulations to our 2020 National Doubles for Women champions, and our thanks to Pontyclun PC and Pontyclun RFC for hosting the event in a safe and sporting way.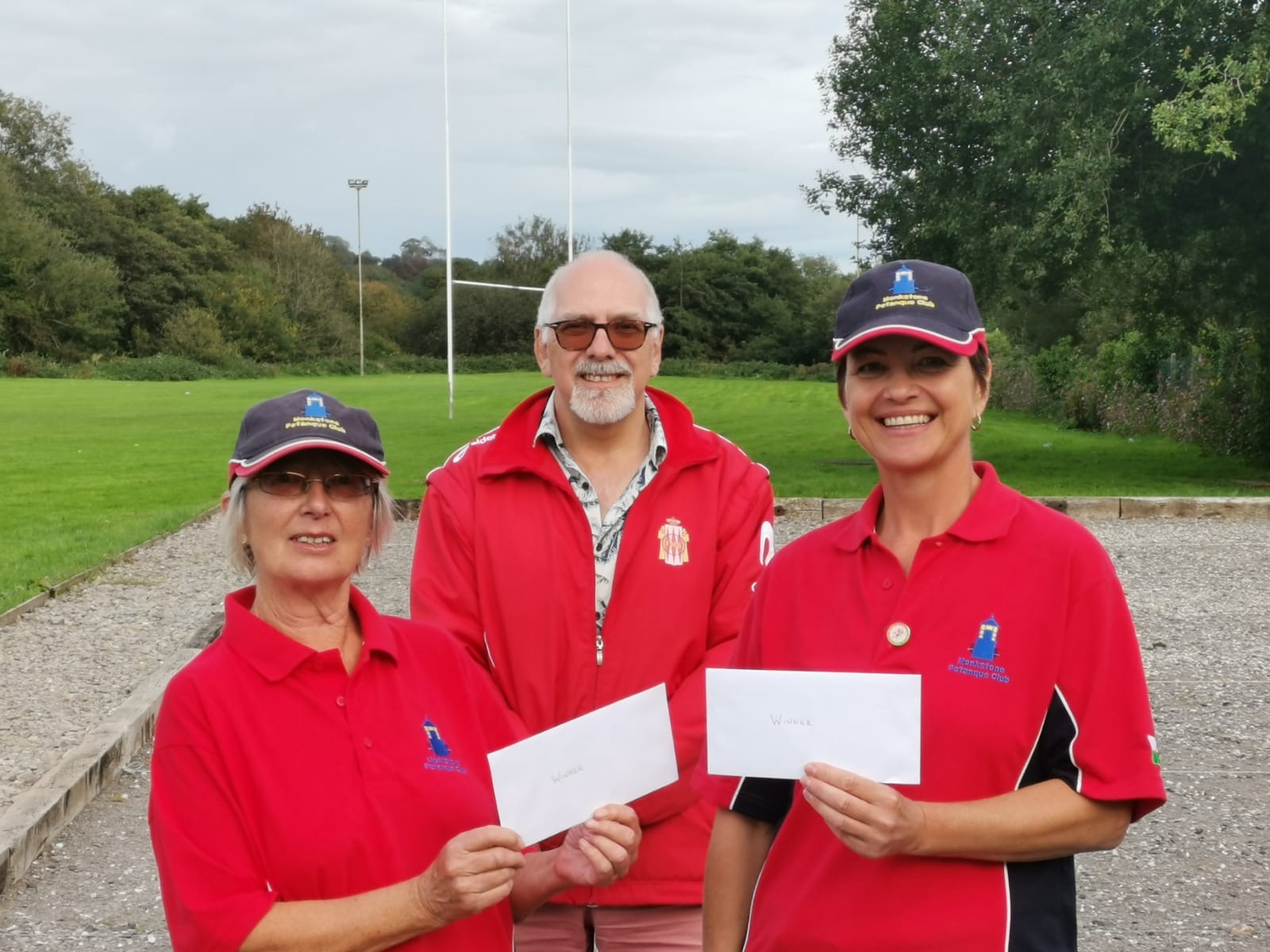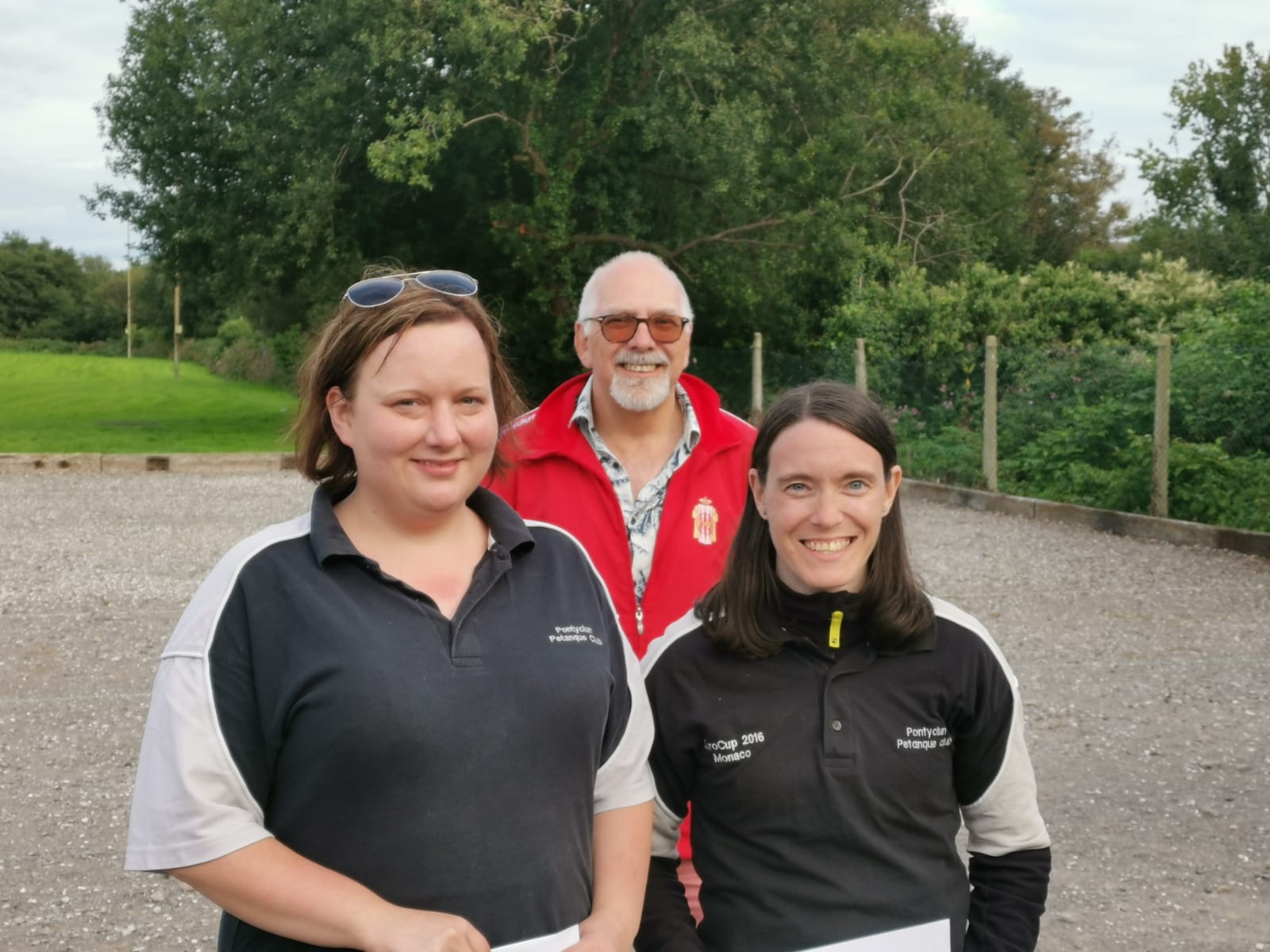 Bob Pugh
WPA National President